Ashamed, Embarrassed or Condemned?
By: Joseph H. Murray



The Psalmist David said "yea let none that wait on thee be ashamed: let them be ashamed which transgress without cause" (Ps. 25:3).

"Let them be ashamed which transgress" means, "let them be condemned because they have sinned." Therefore, we can say that shame is nothing more than condemnation.

We need never to be bowed down with shame, even though we have sinned and missed God's will for our lives. But, we need to bow down before the Lord in humility admitting our error and pleading for mercy and say as David did again, "In thee, O LORD, do I put my trust; let me never be ashamed: deliver me in thy righteousness" (Ps. 31:1).

This thing of shame has to be cleared up here in this life and the ridding of it from our lives. "They shall be ashamed, and also confounded, all of them: they shall go to confusion together that are makers of idols. But Israel shall be saved in the LORD with an everlasting salvation: ye shall not be ashamed nor confounded world without end" (Isa. 45:16–17).

Why should the makers of idols be ashamed and confounded? Because it is a transgression of God's law to make idols or to bow down before them. Again, this brings condemnation to the breaker of God's law. "Turn ye not unto idols, nor make to yourselves molten gods: I am the Lord your God" (Lev. 19:4).

This same pattern of obedience followed on into the ministry of Jesus even though He seemed to differ with the commandments as the scribes and Pharisees had learned them. Remember, Jesus was in partnership with the One (God) who had given them. He said, "whosoever therefore shall be ashamed of me and of my words in this adulterous and sinful generation; of him also shall the Son of man be ashamed, when He cometh in the glory of His Father with the holy angels" (Mark 8:38).

Those who hear the words of Jesus and obey them will be possessed by His influence and led by His power as the apostle Paul was, when he said, "For I am not ashamed of the gospel of Christ: for it is the power of God unto salvation to everyone that believeth; to the Jew first, and also to the Greek [or, Gentile]" (Rom. 1:16).

He also wrote to his son Timothy and told him how to avoid being ashamed of the same gospel which he preached. "Study to shew thyself approved unto God, a workman that needeth not to be ashamed, rightly dividing the word of truth" (2Tim. 2:15). The word of truth, of which he spake, was Jesus and the words He spoke while here on earth (Mark 8:38).

John the beloved, was totally in harmony with the line of righteousness which all that are led by the Spirit of God are, when he said, "and now, little children, abide in Him; that, when He shall appear, we may have confidence, and not be ashamed before Him at His coming" (1John 2:28).

The purpose for Godly unashamedness is to enable us to stand before a righteous God so that He will not be ashamed of us. "But now they [we] desire a better country, that is, an heavenly: wherefore God is not ashamed to be called their God: for He hath prepared for them [us] a city" (Heb. 11:16).

"Therefore wait ye upon me, saith the LORD, until the day that I rise up to the prey: for my determination is to gather the nations, that I may assemble the kingdoms, to pour upon them mine indignation, even all my fierce anger: for all the earth shall be devoured with the fire of my jealousy. For then will I turn to the people a pure language [or lip], that they may all call upon the name of the LORD, to serve Him with one consent.... In that day shalt thou not be ashamed for all thy doings, wherein thou hast transgressed against me: for then I will take away out of the midst of thee them that rejoice in thy pride, and thou shalt no more be haughty because of my holy mountain. I will also leave in the midst of thee an afflicted and poor people, and they shall trust in the name of the LORD. The remnant of Israel shall not do iniquity, nor speak lies; neither shall a deceitful tongue be in their mouth: for they shall feed and lie down, and none shall make them afraid" (Zeph. 3:8–13).




Return to Table of Contents for All Articles

The Pioneer Tract Society
P.O. Box 99
Burlington, NC 27216
Read Preacher Clark's testimony,
How I Received the Holy Ghost!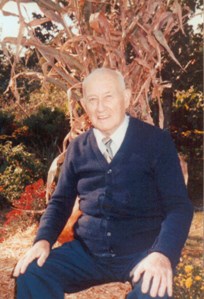 ---
Listen to this wonderful sermon from Preacher Clark (recorded in the 1970s). A real blessing!
(Note - To view both the sermon and the transcript, you must select the sermon first.)
---
Listen to Preacher Clark's testimony as recorded on the Pioneer Broadcast in 1980. A must hear!!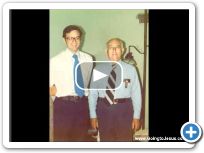 Pioneer Broadcast Part 2
Pioneer Broadcast Part 3
---
On another edition of the Pioneer Broadcast, John Clark discusses the need to be kept from sin by the power of the holy ghost and our powerlessness to resist unclean spirits if we do not have this power.
---
Please enjoy this wonderful, and sobering, message from Preacher Clark in 1975 - Are You Ready to Meet the Lord?
Transcript
(Note - To view both the sermon and the transcript, you must select the sermon first.)
---
---
Listen to the personal testimony of brother Glen Bartow as he tells how he came to understand the truth on the baptism of the holy Ghost being the new birth experience: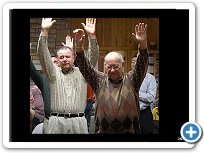 ---
LINKS:
Pastor John's House
Going to Jesus
Isaiah 58 Broadcast
Songs of Rest