He! Who is He?
By: Joseph H. Murray




"Then said Jesus again unto them, I go my way, and ye shall seek me, and shall die in your sins: whither I go, ye cannot come. Then said the Jews, Will he kill himself? because he saith, Whither I go, ye cannot come. And He said unto them, Ye are from beneath; I am from above: ye are of this world; I am not of this world. I said therefore unto you, that ye shall die in your sins: for if ye believe not that I am He, ye shall die in your sins. Then said they unto him, Who art thou? And Jesus saith unto them, Even the same that I said unto you from the beginning" (John 8:21–25).

Jesus could have never said these words within Himself, for He spoke these words at an appointed time given to Him by His Father, for He said, "The Father hath not left me alone" (v. 29).

The multitudes didnít know who He was then, and they donít know Him now. So, donít go looking for Him in the big crowds. He is not there. The many are going the wrong way, and the few are going the right way, or should I say, the righteous way.

The word Lord, according to Mister Webster, is "Owner, ruler, or master; one who has the power."

Jesus couldnít claim that He was He until the Lord came to His temple. Then He was God's anointed one, or Jesus Christ. That was what Jesus was saying, Unless you believe that I am He, the anointed one, ye shall die in your sins.

I want you to know it didnít stop there. Who is the He now? The same as it was in the beginning. The anointed one of God is the He now, and unless you believe His message, you will die in your sins. It doesnít matter if it was Jesus, the anointed one, or someone else today. It was Jesus Christ in His day, but I'm asking who is He today? Iíll tell you who He is. He is whomsoever God anoints and sends forth with His message, and if you donít believe it, you will "die in your sins."

Jesus Christ was He because the Lord had come to the temple that God had prepared for His indwelling. Listen to the reading of Malachi 3:1–3: "Behold, I will send my messenger, and he shall prepare the way before me: and the Lord, whom ye seek, shall suddenly come to His temple, even the messenger of the covenant, whom ye delight in: behold, He shall come, saith the LORD of hosts. But who may abide the day of His coming? and who shall stand when He appeareth? for He is like a refiner's fire, and like fullers' sope: And He shall sit as a refiner and purifier of silver: and He shall purify the sons of Levi [or priests, the preachers], and purge them as gold and silver, that they may offer unto the LORD an offering in righteousness."

"Wherefore when He cometh into the world, He saith, Sacrifice and offering thou wouldest not, but a body hast thou prepared me" (Heb. 10:5).

When did this happen to Jesus? you may ask. "And Jesus, when He was baptized, went up straightway out of the water: and, lo, the heavens were opened unto Him, and he saw the Spirit of God descending like a dove, and lighting upon Him: And lo a voice from heaven, saying, This is my beloved Son, in whom I am well pleased" (St. Matthew 3:16–17). If it took this for Mary's Son, Jesus, it will take the same thing for us before God can claim us for His sons and to be pleased with us.

"Therefore let all the house of Israel know assuredly, that God hath made that same Jesus, whom ye have crucified, both Lord and Christ," the writer of the Acts of the Apostles tells us in Acts 2:36. Jesus became the Christ when the Lord suddenly came to His temple. This happened, as we have read in the Scripture, when the Spirit descended in the shape of a dove and lit on Him after John's baptism. For, "now the Lord is that Spirit: and where the Spirit of the Lord is, there is liberty," 2Cor. 3:17 tells us.




Return to Table of Contents for All Articles

The Pioneer Tract Society
P.O. Box 99
Burlington, NC 27216
Read Preacher Clark's testimony,
How I Received the Holy Ghost!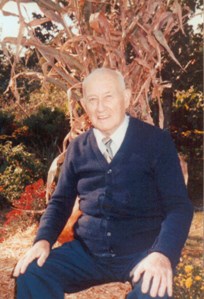 ---
Listen to this wonderful sermon from Preacher Clark (recorded in the 1970s). A real blessing!
(Note - To view both the sermon and the transcript, you must select the sermon first.)
---
Listen to Preacher Clark's testimony as recorded on the Pioneer Broadcast in 1980. A must hear!!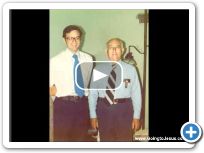 Pioneer Broadcast Part 2
Pioneer Broadcast Part 3
---
On another edition of the Pioneer Broadcast, John Clark discusses the need to be kept from sin by the power of the holy ghost and our powerlessness to resist unclean spirits if we do not have this power.
---
Please enjoy this wonderful, and sobering, message from Preacher Clark in 1975 - Are You Ready to Meet the Lord?
Transcript
(Note - To view both the sermon and the transcript, you must select the sermon first.)
---
---
Listen to the personal testimony of brother Glen Bartow as he tells how he came to understand the truth on the baptism of the holy Ghost being the new birth experience: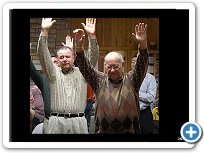 ---
LINKS:
Pastor John's House
Going to Jesus
Isaiah 58 Broadcast
Songs of Rest